Our Christmas cards will arrive in the mail tomorrow. I can't wait to see them in person! I have the address labels and stamps ready to go. It should take me about 15 minutes to finish them and they will be in the mail Saturday morning! Here is it: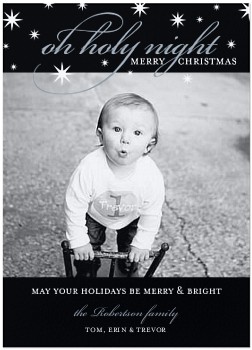 Oh Holy Night Religious Christmas Card

I'm totally, madly in love! I envisioned a family photo with pretty colors this year. When our photographer sent us the preview of the 1 year pics, I saw this one and knew I could find a card to compliment it. I love his face-he makes it about 48923 times a day.

I wonder how many children will be in our photo next year?